Betty Hill – Lands End – 51 miles
After the 'last supper' at the hotel, we were all thinking the last 51 miles would be a breeze, and a breeze they were, nothing but a head wind was awaiting our final section of the route.
Up, packed and ready to go we all decided to get moving as quickly as possible, not for the keenness to finish, but to get ourselves away from the midges! Getting started we were greeted once again by lovely countryside and snippets of coastline as we meandered towards John o Groats.
Todays route had 5 climbs ahead of us, and we were going to feel everyone of them in the legs! The temperature was a bit cooler to start, but a welcome start non the less after the previous nine days of sweltering heat!
Continuing along the route towards the first stop of the day (breakfast) we were all thinking of what to have for our last breakfast knowing that the end was within touching distance, so a full Scottish breakfast was on order!
The final 20 mile were supposed to be a jolly jaunt to John o Groats, but it turned out to be a slog with the head wind and we were all feeling every pedal stroke! The final Stretch into John O Groats was slightly down hill, with the wind behind us, making for a pleasant last ½ mile, being greeted by our fantastic support team being the ever reliable and present Dave Inglis and the youngest member of the team (Fraser) was also present to meet Stuart on fathers day.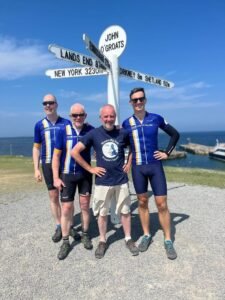 After a short celebration (with champagne) in plastic glasses (keeping it real), some photos we then began to decamp, grab a coffee and head home.
Though the 3 members of the team sat on their backsides and pedalled for 10 days, the journey would not have been possible or as pleasant without the support of our colleagues, families and friends, it has been a great experience and our appreciation goes out to everyone who has helped us along the way, it really does demonstrate the team we have around us.