Braemar to Munlocky – 90 miles
Starting the day from the Braemar Caravan park was a shock, we had to put light jackets on and arm warmers were needed, something told us that we were near home 😊.
The cy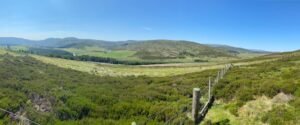 cle from Braemar to Crathie was as stunning as any point of the trip, the clear blue skies, the river Dee and the hills and forests made for a great start to the day, even if we were aware of what was looming ahead (hills and lots of them).
The first was Crathie hill, a mere 192m – but felt like 1920m after the Glenshee climb from the previous day!
Strolling onwards to the next 'pimple; was 231m, again all before our breakfast stop. The breakfast stop was at Strathdon, for a 'light' bite and coffee, as the major climb of the day loomed: The Lecht (330m and 20% gradient at places).
After tackling the climb we stopped, took in the scenery before descending towards Grantown on Spey… if only it was just downhill, we found more climbs along the way!
Upon arrival at Grantown on Spey we were still experiencing the seasonally hot weather, 29⁰! After lunch, it was onwards to Inverness… a long, warm 'slog' which brought out the 'beast' in Kenny and his time trialling experience, he flew off like a train with myself and Stuart in pursuit – but we also suspected that Kenny's lunch had kicked in :).
We all enjoyed the spectacular views on the Kessock Bridge, clear skies, calm waters made for a great experience and one to be cherished!
Arriving at the final destination the team were greeted my Malena's uncle and aunt (Iain and Christine) and Dave's (I) sister … again really great support and lovely company.
To summarise the day, lots of hills, still warm, stunning scenery and great support!